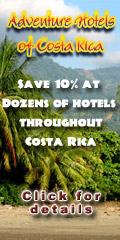 Saladero Lodge is a member of the Adventure Hotels of Costa Rica. Find eco-friendly beach hotels, mountain lodges and unique, small hotels throughout Costa Rica.
Saladero Lodge Costa Rica
Promote Your Page Too
COSTA RICA RAINFOREST LODGE
Saladero Lodge is nestled between the luxuriant green mountains of the Piedras Blancas National Park and the turquoise waters of Costa Rica's Golfo Dulce. Imagine starting each day with the calm waters of the Golfo Dulce as your view and the calls of howler monkeys and toucans as your soundtrack. Spend your days kayaking in the mangrove forest, snorkeling at a local coral reef or exploring the wondrous jungle by foot or horseback. End each day watching the spectacular crimson sunset over the Osa Peninsula accompanied by a chorus of tree frogs singing in the forest. This is a world so beautiful it must be seen to be believed. Saladero Lodge is rated as one of the best of Costa Rican rainforest specialty lodges.
SECLUDED IN THE GOLFO DULCE
The 480 acre finca(farm) of Saladero Lodge is boat accessible only, a pristine plot of paradise tucked away in Costa Rica's Piedras Blancas National Park. Untainted by roads or honking horns, Saladero Lodge offers incredible opportunities for ocean enthusiasts. Kayaking, fishing, snorkeling or dolphin watching are part of the many activities that the Golfo Dulce waters have to offer.
ENCIRCLED BY THE PIEDRAS BLANCAS NATIONAL PARK
Our jungle lodge is a constant delight of wildlife viewing. You can enjoy it from the manicured gardens or for the more adventurous, the Piedras Blancas National Park as our backyard can provide some more or less strenuous hikes. From towering trees to minuscule orchids you will be amazed by the prolific life of the rain forest. Escape from it all here at Saladero.